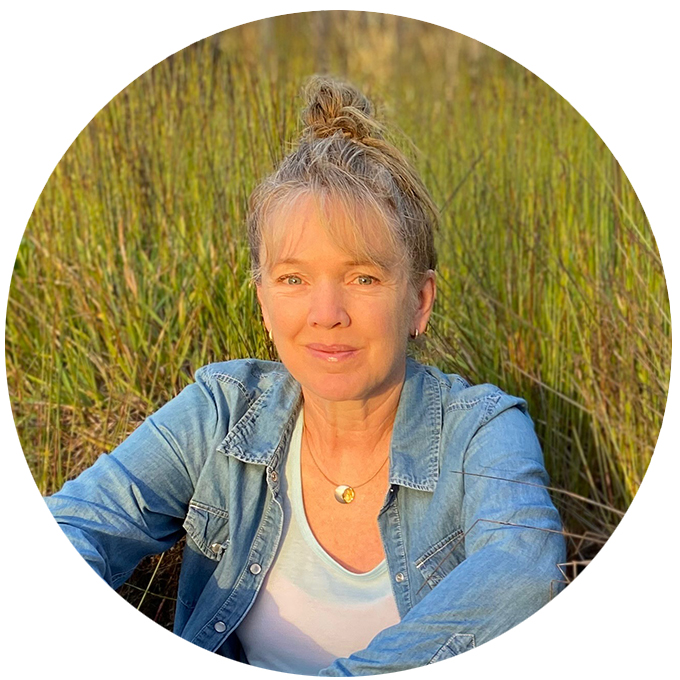 I am a counsellor, artist and a lover of nature living in the Byron Bay Hinterland, Australia.
I have travelled extensively for decades. I trained and worked with extraordinary mentors, teachers and therapists. During this time, I have explored many different methods of self-development and inquiry.
In my daily life, I draw inspiration from nature, art and people like Byron Katie, Paul Lowe, Brene Brown, Ram Dass, Anthony de Mello, and many others. I am just like you, in a constant process of learning and evolving every day.
Self-inquiry has always been an essential part of my life. To me, self-inquiry means getting to know myself more intimately, developing an understanding and acceptance of my thoughts, emotions, reactions and behaviours. I am passionate about supporting people in their own inquiry, assisting them to become more aware of their inner world.

I would like to express my gratitude for the support that Sabine has given me. She has a very special way of setting me at ease as I work through some difficult topics. I have felt that she gave her 100% attention to me during our time together, never pressuring me or having expectations of me. My sessions are helping me to see myself as a human being not a human doing. I have now been able to accept myself, others and my life in a more loving way. Sabine has a way of allowing me to express myself and go deeper than I ever knew that I could go. I have been able to be more at peace with myself, people around me and my situations. I am impressed with her generosity and kindness towards me and others. I hope one day I can help others the way that she has helped me.
I am a therapists and I work with individuals and couples in the field of relationships and sexuality. I have been taking regular supervision sessions with Sabine Brosche and find the support very valuable. I get to explore my own feelings in regards to my work – especially when I face complex and difficult situations that have the potential to bring up my own doubts and limiting believe systems. As a therapist I invite my clients to expand, to open up their hearts and minds to new insights. If I keep evolving, I can be an even better support to them. My sessions with Sabine have been enriching, encouraging – and while they are deep they also made me see the lighter and even funny side of my own limitations.
I have had the pleasure of knowing Sabine for the past 15 years and witnessed her develop her work around human conditioning and behaviour. Along with her deep love of nature, Sabine's ability to support you to access your own insights makes her a highly skilled counsellor. She has the capacity to really see you and listen to your story. Her gift is to hold space and gently point out your patterns and together find solutions for change. I would highly recommend Sabine without hesitation as she has been a true blessing in my life, helping me to maintain healthy relationships and guide me to self reflect on my reactions with love and grace.
Firstly I am offering you a safe space to share your story and to be heard. Just by sharing and expressing your feelings, something new can happen. Together we will look at methods and tools that can support you to come to a deeper understanding of your situation. Seeing yourself and understanding unconscious patterns, motives and fears is the first step towards your clarity.
I take a flexible and inclusive approach to counselling. My work combines a variety of techniques to fit your individual requirements. Every session is tailored to your needs, your personal strengths and limitations.

I believe that most of our human behaviour, thoughts and emotions are learned as we grow up. We have been conditioned to feel, think and behave in certain ways. Our conditioning is sometimes useful to live a worldly life, but it can also be a restriction.
Who Would We Be Without Restrictions?
Our conditioning can feel so real that we accept it as our true nature. But the sages, teachers, and philosophers have forever told us that our true essence lies beyond our conditioning. So who are we if we are not who we think we are? What or who is our authentic self? Where is it hiding? And how do we get in touch with it?
The first step is to notice our restrictions, and that takes a bit of patience and observational skills such as those cultivated through mindfulness. Most of our limitations start in the mind as thoughts. Thoughts trigger emotions, and a bodily sensation follows. Stressful thoughts trigger stressful, emotional and physical responses.
We have thousands of random thoughts per day. They run through our head and trigger our mood. For instance: I can't do it. I don't deserve this. I am not enough. They will not like me. I need approval. I can't find a partner. I should try harder. I am too overweight. I can't make enough money. Success will make me happy. I am lonely.
Thoughts of this nature keep us feeling small and unfulfilled, because we believe them. They become habitual without us even being aware of the process.

I believe that our thought patterns are at the root of our discomfort. Thoughts come first, and emotions and body sensations follow immediately, often too quick for us to even realise what came first.
My invitation is to notice whatever discomfort is present: a thought, an emotion or a sensation. This is where we start. During a session, you can take time to be still and listen to a deeper part in you, dropping to the source of your distress.
In my experience, at the source of our distress lies not the ultimate pain as we may fear, but a surprise. You may discover something profound and delightful at the same time. You find that it is not what you feared, but what you secretly, subconsciously, hoped for.
Are you curious?
Five Years training and co-leading with Martin Rubeau, in Gestalt Therapy, Berlin, Germany.

Two Years Tantra Training with Margo Anand, Peter Schröter and Eva Szabo, Germany.

Three Years Developing and running women's workshops with Silke Wahnfried, Germany & Czech Republic.

Five Years assisting and co-leading with Dinesh Juckoff, in encounter groups, couple workshops, body work, breath work, meditation, Europe.

Eight Years assisting and training with Paul Lowe, in awareness, self-inquiry and meditation, Germany, UK, USA, Canada.

Facilitation Training for 'The Work', with Rosie Stave, Byron Bay, Australia.

Creative Life: Fine Arts Diploma, Australia.