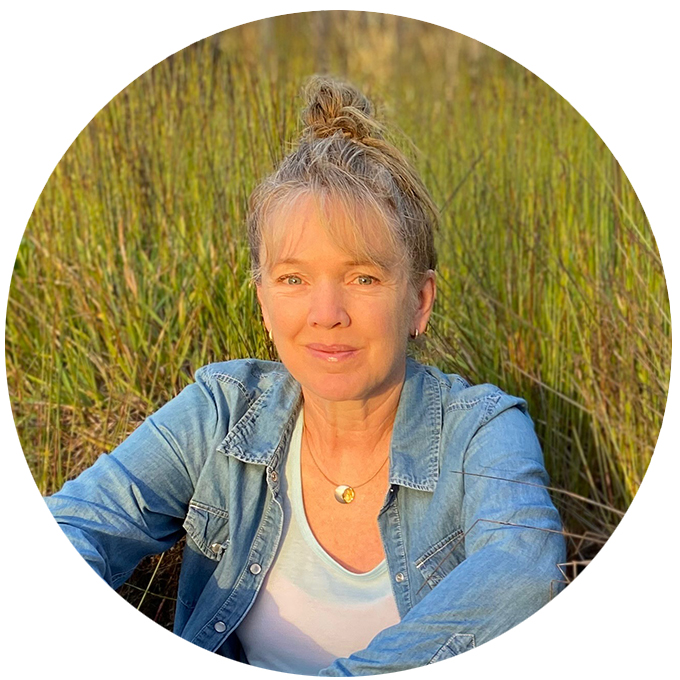 I am a counsellor, artist and a lover of nature living in the Byron Bay Hinterland, Australia.
I have travelled extensively for decades, and trained with extraordinary mentors, teachers and therapists. During this time, I have explored many different methods of self-development, meditation and self-inquiry. I am just like you, a work in progress – still learning and evolving.
In my daily life, I draw inspiration from nature, art and people like Eckhart Tolle, Byron Katie, Paul Lowe, Ram Dass, Anthony de Mello, Brene Brown, Elizabeth Gilbert and others.

I am here to support you to develop a deeper understanding of your personality, your thoughts, emotions, reactions and behaviours. I believe that past our personality lies our true nature – free, easy and peaceful.
I would like to express my gratitude for the support that Sabine has given me. She has a very special way of setting me at ease as I work through some difficult topics. I have felt that she gave her 100% attention to me during our time together, never pressuring me or having expectations of me. My sessions are helping me to see myself as a human being not a human doing. I have now been able to accept myself, others and my life in a more loving way. Sabine has a way of allowing me to express myself and go deeper than I ever knew that I could go. I have been able to be more at peace with myself, people around me and my situations. I am impressed with her generosity and kindness towards me and others. I hope one day I can help others the way that she has helped me.
I am a therapists and I work with individuals and couples in the field of relationships and sexuality. I have been taking regular supervision sessions with Sabine Brosche and find the support very valuable. I get to explore my own feelings in regards to my work – especially when I face complex and difficult situations that have the potential to bring up my own doubts and limiting believe systems. As a therapist I invite my clients to expand, to open up their hearts and minds to new insights. If I keep evolving, I can be an even better support to them. My sessions with Sabine have been enriching, encouraging – and while they are deep they also made me see the lighter and even funny side of my own limitations.
I have had the pleasure of knowing Sabine for the past 15 years and witnessed her develop her work around human conditioning and behaviour. Along with her deep love of nature, Sabine's ability to support you to access your own insights makes her a highly skilled counsellor. She has the capacity to really see you and listen to your story. Her gift is to hold space and gently point out your patterns and together find solutions for change. I would highly recommend Sabine without hesitation as she has been a true blessing in my life, helping me to maintain healthy relationships and guide me to self reflect on my reactions with love and grace.
Most of my childhood in Berlin, Germany was overshadowed by fear, insecurity, and confusion. As a young adult, I grew increasingly anxious and painfully shy. I was hiding from people, as I struggled with shame, guilt and unworthiness.
When depression set in I had to look for help. I was fortunate to meet a group of therapists who were deeply compassionate, kind and honest. Eventually, they became my mentors, and I trained with them. I can now pass on what was gifted to me.
In my early thirties, I left my life in Berlin behind and started travelling the world. I was still searching for something. I participated in anything that sounded exciting and likely to free me of my restrictions. I explored different therapies and spiritual practices. Among the most influential were Gestalt Therapy, Encounter Groups, Tantra, meditation, rebirthing and other non-conventional therapies. Along the way, I met some wonderful people who became close friends and my worldwide family.
Overcoming Depression & Anxiety
In 2006 I settled in rural Australia,  to study art. It was during this time that my mother committed suicide. Once again, I plunged into a deep depression. Nothing I had learned seemed to be applicable. Instead, I was sliding deeper and deeper into the depression. When I reached the lowest point of my agony, I had some important realisations that supported me to get out of my depressive state. What had felt like the end of the road for me, became a new beginning.
Finding Self-Inquiry

In 2013 I was introduced to self-inquiry in the form of the Satori Process and The Work of Byron Katie – and it changed my life. Inquiry taught me that everything we long for really does live inside of us already. We all really do have inner wisdom, strength, love and joy inside of us. We just have to relearn how to access those qualities.
Self-Inquiry is now part of my work as well as my own personal practice. My own evolution is still a work in progress. As I see it, we may never really be 'finished' growing but continuously evolving into a freer, more expanded and loving human being.
I look forward to the privilege of being with you and accompanying you on your sacred journey to freedom.

Five years training and co-leading with Martin Rubeau, in Gestalt Therapy, Berlin, Germany.

Two years Tantra training with Margo Anand, Peter Schröter and Eva Szabo, Germany.

Three years developing and running women's workshops with Silke Wahnfried, Germany & Czech Republic.

Five years assisting and co-leading with Dinesh Juckoff, in encounter groups, couple workshops, bodywork, breathwork, meditation, Europe.

Eight years assisting and training with Paul Lowe, in awareness, self-inquiry and meditation, Germany, UK, USA, Canada.

Facilitation training for 'The Work' (Byron Katie), with Rosie Stave, Byron Bay, Australia.

Creative Life: Fine Arts Diploma, Australia.